On July 5th, 2021, 10 Kerry Blue Terrier puppies were born from our lovely Lucy. It is our C - litter and all puppies are up. We are official breeders in the KfT / VDH / FCI and guarantee that our dogs and puppies are kept in a species-appropriate manner. All strict rules for breeding including all examinations, worming treatments and vaccinations are observed and carried out. Of course, the new owners receive an original pedigree with the EU pet passport. In addition, buyers receive a dog harness, a cozy blanket, a toy and a folder with all the important information for the first few months. We only give absolutely healthy puppies into loving and responsible hands. Our dogs and puppies are kept in the family, i. H. You live with all family members in our house with a large garden. We also have extra rooms in the house that have been equipped with activities for the puppies in case the weather does not allow them to stay in the garden. In the garden area, a 60 square meter outdoor area with a shelter was built so that the puppies can play adequately and safely throughout the day. Our puppies are well socialized and used to everyday noises and situations.
Of course, we are in contact with the new owners even after the puppies have been handed over and they provide advice and action.
About the parent animals:
Father is Esprit Active Bueno. Bueno is a very nice and behavioral male. He became Swiss and international champion. Bueno is already the father of other Kerry litters.
HD-B, vWD free, DM free, CMSD free.
The mother is Lucy Celtic Blue vom Klosterberg. Lucy is a very loving and affectionate dog. She turned out to be a very good and caring mother. She is KfT Youth Champion.
HD-A, vWD free, DM free, CMSD free.


Aus München kommt eine Familie, die sich den Comes Blue ausgesucht hat. "Bolle", wie er jetzt gerufen wird, hat ein tolles Leben direkt an der Isar und er unternimmt viele ausgiebige Spaziergänge und benimmt sich dabei lieb und brav. Wir bekommen viel Feedback über seine Entwicklung und dieses nicht nur als Text, sondern auch mit Bildern und kleinen Filmen hinterlegt.
Ruta and Gerd from Bavaria wanted to get a loyal companion again. After the first telephone contact they had looked at the Kerrys at Tanja "Loughborough Suite" and according to their own words, they fell in love immediately and only this breed was considered. We were then able to offer them the Curly Sue and after a brief consideration they even discarded their vacation plans to pick up the Curly. Curly is now the focus of the family and she is also allowed to help with the honey harvest, because beekeeping is also a big hobby of the two of them. A special, lovingly created homepage, www.bienenwachszauber.de,
testifies to their enthusiasm. Gerd has already taught Curly a lot and an obedience seminar has also been taken.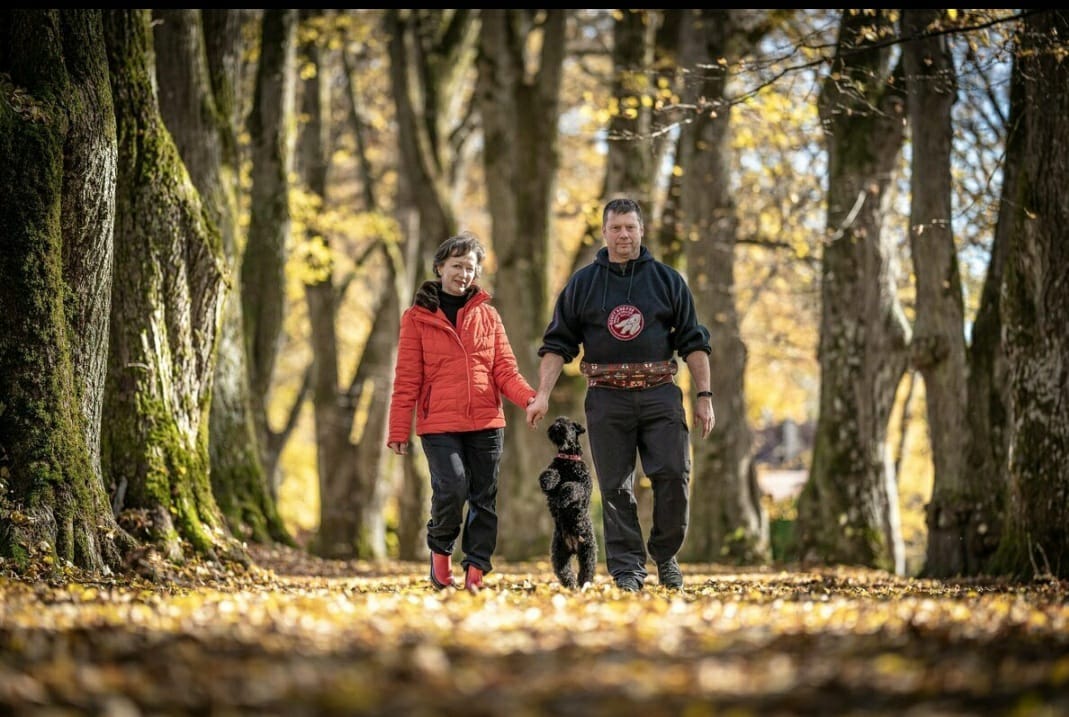 A family from Brandenburg has chosen the Cyan-Odin and they are happy about the great guy who lives in the house with two cats and shows a wonderful being. He has even been to an exhibition in the baby class, where he took first place among all the terrier babies that competed. It's not the first Kerry of the two, because once Kerry always Kerry.
It is a concern of Sabine to make the great breed of the Kerry Blue Terrier better known and for this purpose she designs a specially designed Kerry calendar every year with photos, some of which she creates herself or which she receives from other Kerry owners. She is therefore constantly on the lookout for new motifs. The calendar is delivered at cost price. We think that's great and of course we fully support your work. Interested parties are welcome to contact us to receive such a great calendar.
A family from Hessen with three children had chosen the Cold as Ice. Tobi, as he is now called, is the sunshine of the family and always has plenty to do, thanks to the children. They make very nice little films, one of which can be seen with Tobi on our Facebook page "Kerry Blue Terrier Hobby Breeding".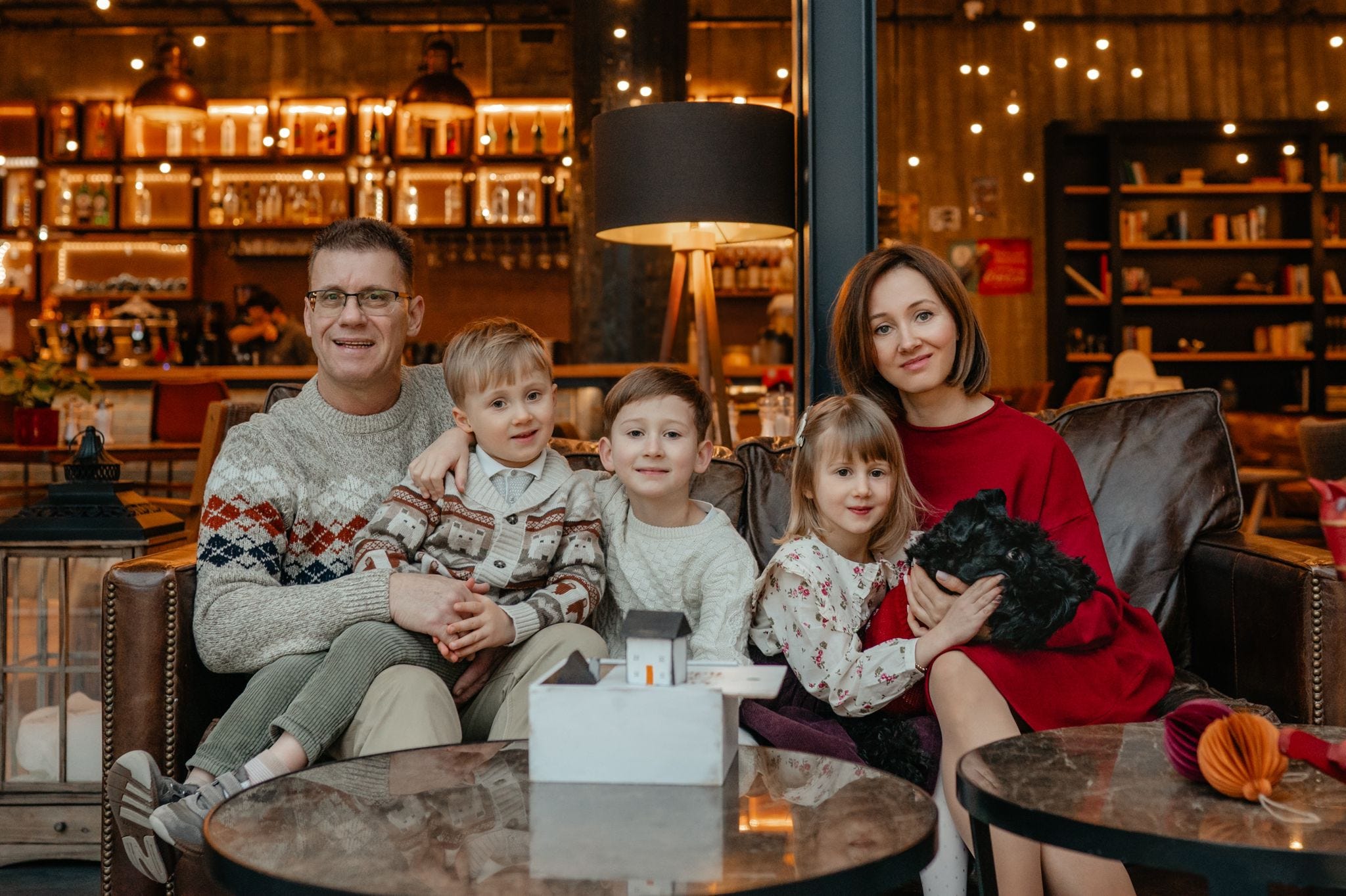 A couple from beautiful Saxony chose the Capitain Jack. Jack has developed extremely well and is busy around the clock. He lives in a house with a large garden, which was completely fenced in especially for him by the two ladies themselves. He is allowed to visit the own horse and he travels a lot to various farms, as this is part of the job of one of the two women. He has a really great and very varied life.
Chilli Pepper vom Ochtendunger Land
Below is the Pepper. He has also found a great family and lives near Lörrach. A Border Terrier bitch also lives in the pack, so play and fun are guaranteed. In the pictures he was just getting his hair done by Doris Kapferer. He's grown into a handsome Kerry man.
In order to find out how our breed is received by the buyers of the puppies, we created a small questionnaire. Here are a few opinions.

Family from Hessen:


1. How did you feel about contacting us?
Very positive! There were enough contact options and also the request to phone
report, I thought it was okay, although I (Gabi) hate to make calls (that's spontaneous what I
occurs when I hang up). Of course I caught the moment when nobody did
Could answer the cell phone and was then very pleasantly surprised to be called back so quickly
would. The chemistry was right on the phone, so I even forgot
that I don't like to talk on the phone. Top!
2. How do you like our website (homepage)?
Very nice and informative and, above all, always finding something new. It's great that you
no matter how many new pictures you added. It's fun to surf with you!
3. How did you feel about the visit to the puppy viewing with us?
Wonderfully pleasant, like coming to meet friends you've known for ages. Especially
I liked that Lucy looked so great, just like Xerxes, and all of them harmoniously
are huddled together. It's not easy to make a nursing bitch like that
looks gorgeous and it showed us that Lucy does not exist as a "birthing machine" but in
a loving home. It was also great that you had time for us and not impatient
and that you have so much time between visits by the new owner
had estimated. So all the stress was taken away for us, because you put it on you
(10 visits instead of one). Thanks for that!
4. Were you satisfied with the accommodation of the puppies in our house and garden?
Very satisfied! You have thought of everything for us and made sure that the puppies are healthy,
grew up happy, secure and contented.
5. Have we adequately answered your questions about the Kerrys?
Very detailed and sometimes even before we could ask them. Very good!
6. Were the information, pictures and videos about the puppies ok? Or too little or too much?
From a subjective point of view, of course, far too little, but it would have been if you had us 24/7
would have shot completely. In fact, we were always very happy when, in addition to all the work,
who make the puppies, your other work, your children and everything that comes up to us
thought and sent us news. So objectively it was super okay!
7. Was the information folder sufficiently informative or was something missing?
It was unbelievable what a job you did, it was really worth it. the
The folder is nicely designed (with the photos of the puppy and the parents, it's just perfect) and
it is advisable to collect all further information or sheets regarding the Kerry in it (registration
at the municipality, Tasso, veterinarian, etc.). Especially the extensive list of fruit and
Vegetables that are suitable for the pup and the list of bones are very helpful.
Thank you for this work, you made it very easy and manageable for us. I'm falling
just a little something that could perhaps be added and that would be a short information page
Organizational issues (with Shila, for example, we had half a year, she with the
To register the community, in the meantime you have to do this after 2 weeks). You could do that with
connect a short list of links (KfT, Tasso, ...) or collect a small one again
Schedule for the first 4-8 weeks with a little hint to get in touch with the city or
To inform the community. But to be honest: Your folder is awesome!
8. How did you like the design for collecting the puppies?
Again a lot of stress for you and for us beautiful and loving. Christmas and birthday
at once! You had thought of everything and through the many food samples and the rest
You could take your puppy home and get presents in peace
leave.
9. How was the drive home and were our tips helpful or do you have your own
Have experiences that made it work better?
Even before we drove out of Ochtendung, Cody had calmed down and slept
on my arm. Unfortunately it was extremely hot that day and we were stuck in traffic jams a lot. It stayed that way
then it doesn't matter that he threw up in the second traffic jam. Fortunately, he had nothing
eaten and not particularly excited about it. I was able to wipe his mouth
and then we went to sleep. Because it took a long time due to the traffic jams
we stopped in between so Cody can have a drink and the trunk
he thought it was so great that after drinking he curled up and slept. So
we waited, we simply indulged in luxury.
10. How were the first days with the puppy? Have your own experiences with the
Diet, house training, night's rest, etc. done?
Cody came every four hours during the night for the first two or three days, and has usually slept since then
at least 8 hours. The tip with the lockable box was worth gold! In the beginning it has
he only ate half of his dry food and divided the rest. Just that
He ate fresh food, which is available once a day, all at once. In the meantime he also eats
the dry food completely and still has space for one or the other
Training treats (also dry food, but from a different brand). So far we haven't had any
Problems with diarrhea, which is probably also because you got it early on
offered different types of food. Thank you, also for that! We are working on the house training.
While he didn't lose anything in the house or on the terrace for the first few days, it happened
that now. He is then very surprised that we wipe it away and clean afterwards and
Don't praise him for how we do it outside.
11. Does the puppy meet your expectations regarding behavior, health and appearance?
Yes Yes Yes! He's beautiful anyway and so far we haven't had any with health
Problems. Cody's behavior is mostly exemplary. He hasn't broken anything on purpose
is mostly very gentle and loving, rarely barks and can then be calmed down quickly, is
friendly to people and animals and approaches new things with curiosity, interest and fearlessness.
BUT, when one of us humans goes away (usually we can
not avoid), he is completely desperate (oh, poor dog I'm sooooo alone and just have
another master) and then leaves it out on whoever is still there (man, you don't have
watch out, now I'm angry with you!). Terrier behavior comes at such moments
through, about the one people always warn like that. It can be poisonous! At that point
We are currently working to make things more relaxed for Cody and to make sure that
the missing master / mistress appears again. That you can work with an animal at the
There is no question that upbringing is part of it and must be. No, we are very much with Cody
happy and satisfied.
We just got the perfect dog from the perfect breeders! thank you
Therefore!

Family from Bayern:

Here are our impressions regarding the questions about the Kerry puppy - breeder Manja and Frank
Böhnke
Kennel "vom Ochtendunger Land"
–Contact via SMS - then by phone without complications and very pleasant.
–The website is
- Informative
- clearly structured
- bilingual German / English
- wonderfully illustrated with detailed descriptions of the dogs
(Characters of the puppies, parents and also the breeders)
- The visit to Manja and Frank was very pleasant, informative and warm. It wasn't any
To feel time pressure.
- Accommodation of the puppies both in the garage prepared for the dogs as well as in the
We found the garden and the house to be extremely demanding - full devotion to the
Puppy and the other two dogs
–The questions we asked were answered very well and beyond
we got a lot of information about the Kerreys
–Any information, pictures, videos about the Kerrys gave us a lot of fun - for us
more of this at any time :)
- We found the information folder very well designed - we have had several puppies, but never
we had received this very good compilation of information from a breeder.
- When collecting the puppies, Frank again took a lot of time to deliver the puppies -
Puppy haircut - information - in addition, a lot of equipment such as food,
Toys, collar and leash, mentioned information folder, and blanket with a former
A smell of homeland given - not yet experienced either.
- The trip home went without any complications - the puppy still had time to go before the trip
Digestion. We had our son and his girlfriend with us when they were picked up, so
they could take care of the puppy - for a short time something like
"Homesickness" - fell asleep after a few minutes and dozed off quietly until the break - after
slept all the way home during the break.
–The first days were exciting, filled with life - we didn't get the impression that the
Puppy felt homesick - didn't have the time for this either, since full employment with play
and going for a walk - sleep without any problems - here's the tip with the transport box next to it
the bed great - went after a week if bed rest seems necessary - independently
into the box - but then wait for everyone to go to bed. House training solala - still shows
does not correctly suggest that the business is necessary. But that will still be. Food
were made very easy for us through the personal tips and the information folder.
–The Curly Sue is more than our expectations. Enchants us with their charm -
the look from her melts you away - character is excellent - has hers
own personality - shows himself to be very docile - visit to the vet for vaccination
also for assessment, as the vet has not looked after any dog ​​of this breed so far -
Visit to the vet went perfectly.
Update 08/25/2021:
All of our puppies have been referred to Kerry lovers. We thank all interested parties. Unfortunately we had to cancel some of them because we "only" have 10 puppies and these were in great demand. Our Lucy will now have a very well deserved and necessary break from breeding of at least 2 years. During this time we dedicate ourselves to the education and exhibitions for our dogs. In addition to this great hobby, we also have other things to do and we will enjoy a great holiday with our dogs in October in a holiday home in Denmark on the North Sea. We all deserve it :-).
One of the puppies at the age of 5 weeks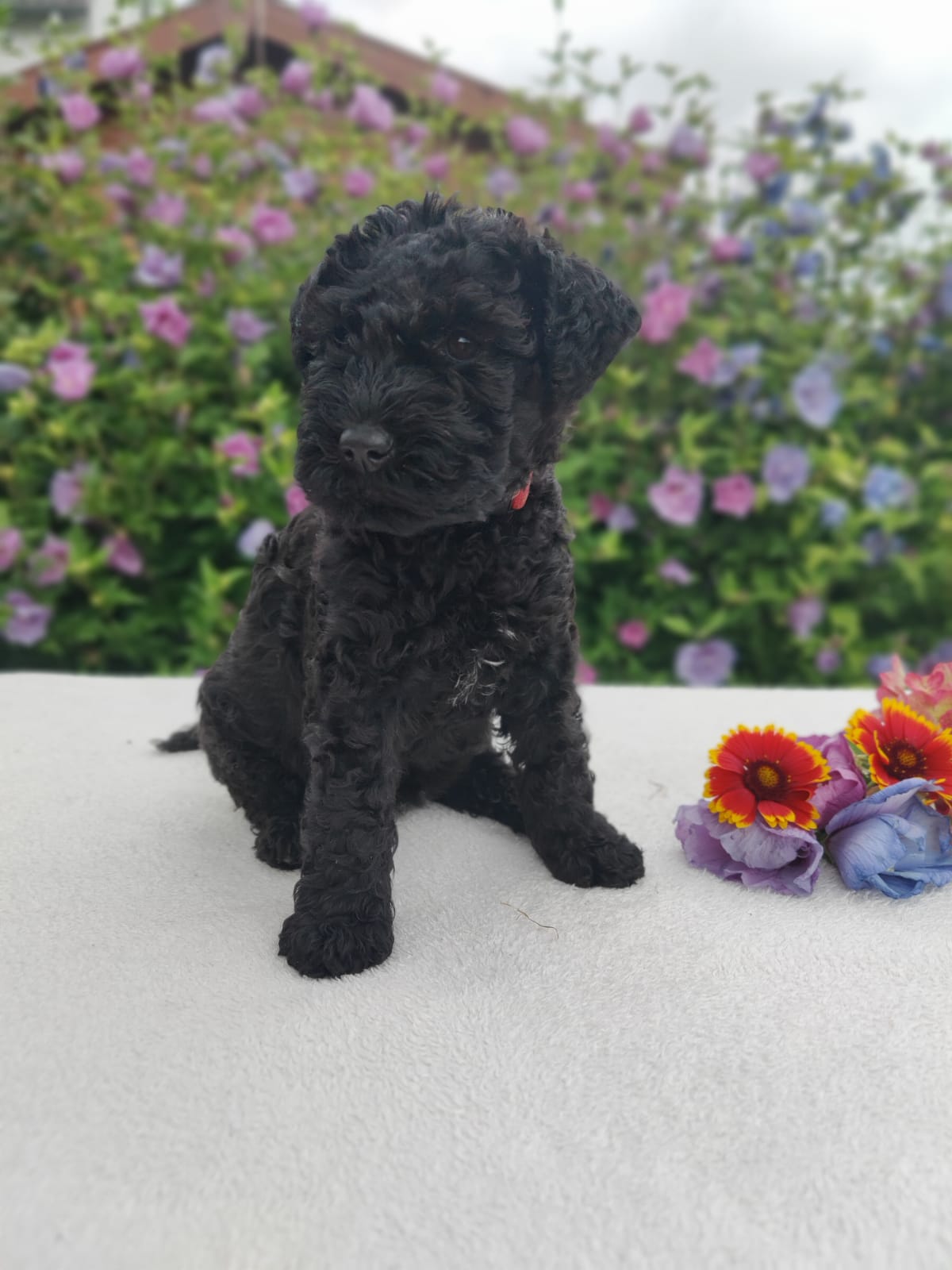 Our ten puppies with 6 weeks. They have all developed great, nobody is lagging behind and everyone is very healthy! We are so proud of you and of course your super mom .....
This is Captain Jack. Born as the third puppy with a body weight of 250 grams. The captain has now overtaken everyone in terms of weight and is very balanced and therefore rather reserved. Who can resist this look?
Here is our Coconut Kiss. Born as the seventh puppy with a body weight of 280 grams. She still has to learn to stand in parade. Coco is a lady who knows how to defend herself in a swarm of men and who flattens most of the prospective men!
Chilli Pepper was the last and tenth puppy and came as a complete surprise. He has developed splendidly since his birth with a body weight of 280 grams. A great stature and a lovely nature.
Cherokee Blue was the first to be born. A chunk with a birth weight of 350 gr gave our Lucy a lot of trouble. However, he exposed the canal in an exemplary manner for those who followed, who almost had to be caught when they were born.
Our Chicago Fire, born as the fifth puppy with a weight of 280 grams, is a true philanthropist. He is more interested in the warm hands of the breeders than in cuddling with fellow dogs. He is the first to loudly demand the breeders' presence in the morning. Anyone who gets this very affectionate guy can consider themselves lucky.
I introduce our youngest girl. The Curly Sue was born as the fourth puppy and weighed 220 grams. But be careful ... if you think this is an inconspicuous and easily vulnerable girl, you don't know her. There's no brawl that Curly misses. Assertive and then with a puppy look that melts you away. Yes, that's how it is ;-).
Cold as Ice is one of the tough guys and was born sixth at 290 grams. Ice is a rather reserved male who can sometimes be pushed up to a certain point. But then there's a treat!
Cara Mia is the third girl in the group and was born second with 300 grams. Mia is a pretty young lady and always looks at you soooo in love that you naturally poke her and paw her. Then she often falls asleep :-).
Comes Blue wants to be a star. Born as the ninth puppy with 280 grams, he always trots around confidently and is angry when nobody pays attention to him .... well and then it can end in a fight ;-). Great male, he'll be something ...
This is our Cyan Odin. Born at 250 grams and eighth, he is now in the middle of the field in terms of weight. He's not a brawler but always very curious and wants to examine everything in detail ..... then many a flower head has to believe in it and that to the annoyance of my wife :-).
C - Litter
We are very proud of our Lucy, who managed to give birth to 10 perfectly healthy puppies in just 4 hours.